What I Saw: My Journey to the Leadership Institute
In early September, I found myself driving down the New Jersey turnpike towards Virginia. My car was loaded with suits, toiletries, and most important, my collection of tattered G.K. Chesterton books. I was unusually stressed, not just because I was surrounded by the turnpike's notoriously aggressive drivers, but because I was on my way to start a fall internship at the Leadership Institute (LI).
Like anyone who's starting a new job or internship, I was nervous and unsure of what to expect.
I was somewhat familiar with LI, having taken their (excellent) Youth Leadership School, but accepting an internship there had been a spur-of-the-moment decision. Eventually, I pulled into the driveway of LI's intern house and started my journey.
Four months later, I'm beyond blessed to be working here at LI full-time.
As an intern who transitioned into a full-time role, I've become intimately familiar with LI. The fifth-floor coffee maker is by far the best. Kirsten Holmberg, our Deputy Director of Political and Fundraising Training, always has a bowl of gourmet sweets on her desk. There's a faucet in the third-floor Men's restroom that randomly runs scalding water, so always be careful.
But most important, I've become familiar with LI as an institution, and what exactly this organization does. The year 2021 was a great year for me (except for the fact that I got blown out in my Fantasy Football playoffs), and it was an even better year for LI.
In 2021, the Leadership Institute (LI) prepared 18,195 trainees - from college students to campaign managers - to advance and act on their conservative principles. Each week, LI provided an average of 57 hours of live training, boosting the conservative movement towards electoral successes in 2022 and beyond.
My journey with LI started when my friend invited me to attend LI's Youth Leadership Workshop (YLW), a three-hour training that equipped 1,606 young conservatives last year with tactics and tools they can use to advance conservatism on campus and beyond.
After I attended the Youth Leadership Workshop, I was hooked and wanted to learn more. Being a conservative student on a heavily left-wing campus just outside of Seattle was extremely intimidating, but the YLW sparked an epiphany in me.
Remaining quiet meant that I was letting the radicals on my campus win. Remaining quiet is exactly what they were hoping I would do.
This epiphany motivated me to take the LI's two-day Youth Leadership School (YLS), an intensive 29-hour training that extensively expands upon the content taught in that first three-hour workshop I took. It teaches young conservatives how they can win.
In 2021, 532 student leaders were trained in the YLS. Sixty-four YLS grads organized efforts for conservative candidates across the country, enabling candidates to capture the youth vote and drive a youthful image that has become increasingly important in elections.
Some Youth Leadership School graduates eventually become interns at LI, like me!
Over the course of 2021, 32 interns came through LI, including 11 in my fall class. We came from all over the country, from the urban megalopolis of NYC, to rural Georgia. Despite coming from different regions and cultures, we became incredibly tight knit.
I've made lifelong friends and I know many of us will be attending each other's weddings.
One highlight of the internship was our Book Club, where we read a classic work of conservative literature each week. From Hayek to Goldwater, LI interns collectively read more than 45,600 pages of conservative literature. My personal favorite was Douglas Hyde's
Dedication and Leadership
, which I'd highly recommend to newer conservatives.
I'm currently in the External Affairs division, but my time at LI started as an intern in the Career Resources department. Helping fellow conservative jobseekers was important to me during my internship. My supervisor went out of his way to train me how to help others secure employment and jumpstart their careers. Ultimately, I was able to use what he taught me to land my own full-time position here at LI!
In 2021, LI released an updated version of
ConservativeJobs.com
. The website attracted more than 33,800 unique visitors in 2021 and helped job-seekers streamline their job searches. On top of that, LI's careers team also met one-on-one with 451 conservatives for personal career consultations, offering conservatives customized advice and guidance to help them navigate the often-turbulent job market.
While I lived in the intern house, one topic that continually came up during our conversations, other than whether the North or the South had better food, was the dramatic growth of Critical Race Theory within the halls of our schools.
2021 was the year when the encroachment of divisive left-wing ideology into every aspect of American society, even into the classrooms of our children, was made abundantly clear to conservatives. Unfortunately, many school boards are now used as social engineering tools instead of focusing on preparing our children for higher education and the workforce.
Parents knew that they couldn't simply stand by.
Thanks to the generosity of LI's donors, LI supported these parents through the creation of the on-demand School Board Campaign Training, which more than 1,500 concerned citizens have registered to take. This training provides parents with the skills to wage and win successful campaigns for their local school board, where they can help protect the integrity of their children's education.
LI also offers other on-demand courses, a diverse array of training that educates conservatives on both principles and practice. The History of the Constitution and Conservative 101 on-demand trainings both had more than 1,000 registrants this year. Many also took the Social Media Bootcamp, where they learned how to translate their conservative principles into action.
It's not just parents who are standing up for education, college students are too.
Being openly conservative on a college campus is a difficult task. I attended college in Washington State, just outside of Seattle. Though I was surrounded by gorgeous mountains and enchanting evergreen forests, I was also surrounded by leftist students who lacked any tolerance for even the slightest differing opinions.
Once, when I was reading Ronald Reagan's diary on campus, I was so afraid of being confronted by these leftists I replaced the book sleeve with a sleeve from one of my Harry Potter books, just so I could read in peace.
LI's Campus Leadership Program (CLP) directly supports conservative students like me, who feel as if they must remain undercover. Thanks to LI's generous donors, LI gives students the resources and training they need to speak up and restore balance on American campuses.
LI's CLP program now includes more than 2,000 active student groups. In 2021, CLP added 816 new student groups and newly identified more than 96,900 conservative students. With CLP's support, conservative students were able to put on 2,583 public events on their campuses; each event promoted conservative ideas and values to students.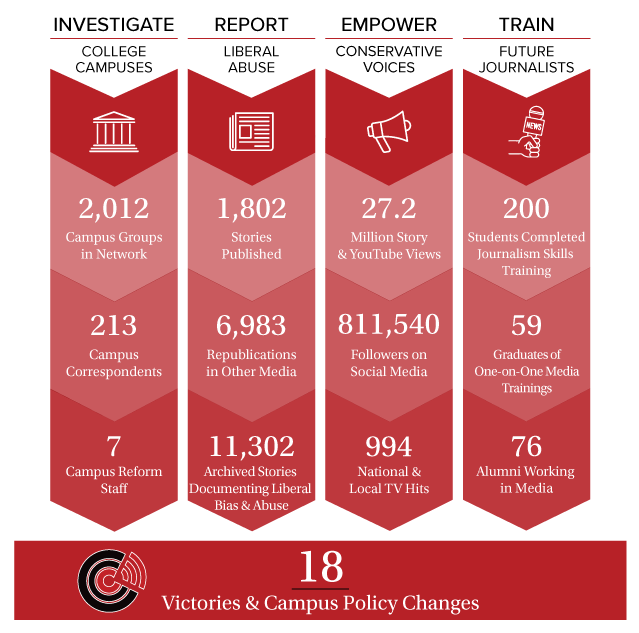 Just a few decades ago, the average college campus was a bastion of intellectual openness, a place where students of all political stripes could freely discuss their beliefs without any fear of judgment or retaliation. Now, campus institutions are saturated with left-wing bias.
This left-wing bias is exactly what motivates the Leadership Institute's Campus Reform (CRO), a team of journalists who identify and expose left-wing bias on America's campuses.
CRO uses a nationwide network of investigative student reporters to expose these institutional left-wing biases, restoring integrity to American campuses in the process.
In 2021, local and national television programs featured LI's Campus Reform students, staff, and stories 994 times.
Online, the Campus Reform stories and YouTube channel garnered 27.2 million views over 2021. Campus Reform's popularity is a testament to the fact that America's conservative students have had enough.
Unfortunately, what is happening on our college campuses is just a microcosm of what is happening across the country. From Alaska to Alabama, and everywhere in-between, institutions are slowly being captured by left-wing bias.
Thankfully, conservatives are standing up for their rights. The effort to safeguard America's principles is a multi-faceted effort, and that's why LI offers a diverse array of political trainings, both online and in-person.
While I was an intern, I was granted free access to these trainings, and I can attest to the fact that they are a huge tool in the toolbelt of the conservative movement. In 2021, the Leadership Institute (LI) expanded the number of trainings offered, ultimately training more than 18,195 conservatives.
LI now has 51 different trainings available. Each one equips conservatives with a range of skills necessary to make a difference in communities across America.
For selfish reasons, I wish LI had a training on how to meet conservative women in a heavily liberal region, but given that there are more pressing issues at hand, I doubt that training will be created anytime soon!
Currently, three US senators and 27 members of the House of Representatives are graduates of LI's political trainings. Having met some of the motivated individuals attending these trainings, I'd bet my entire savings account that this number will only increase
.
As the midterms approach, and as liberal politicians continue to lurch even further leftward, it's more important than ever to become involved. If you are motivated in 2022 to use your talents for conservative activism either on campus or in your community, visit LI's website for the complete list of 2022 trainings available. Thanks to LI's generous donors, they are low-cost or no-cost, and can be found here:
LeadershipInstitute.org/Training
.